Inside 3D Printing returns to San Diego
EXHIBIT HALL OPEN
MONDAY, DECEMBER 4 10:00AM – 5:30PM
AND TUESDAY, DECEMBER 5 10:00AM – 3:30PM
Inside 3D Printing San Diego is a professional 3D printing and additive manufacturing event focused on the latest innovations in the space. As a conference attendee, you'll explore the business applications of 3D printing across four tracks covering Manufacturing and Materials, Medical Applications and advances in Metal AM. Keynotes and conference sessions are delivered by industry experts and demonstrations of the latest 3D printers and services take place in the expo. Join us and see how 3D printing is revolutionizing industries including manufacturing, medicine, architecture, aerospace, and what it means for yours.
Who Should Attend?
Academicians
Architects
Artists & Makers
Automotive Professionals
Aviation Innovators
Engineers
Fashion & Jewelry Designers
Food Professionals
Industrial Designers
Inventors & Technologists
Investors & Entrepreneurs
Lawyers & IP Attorneys
Manufacturers & Prototype Specialists
Medical, Dental, & Prosthetic Specialists
Plastics & Metal Engineers
Software Developers
Sponsors, Exhibitors, and Media Partners
Silver Sponsors
EnvisionTEC has developed cutting edge 3D printing solutions that provide the capability to rapidly manufacture true-to-life and functional duplications of CAD renderings with 3D representation that is unmatched in the industry. EnvisionTEC enjoys a strong customer and partner base in a wide variety of applications. http://www.envisiontec.com
GoEngineer delivers software, technology and expertise that enable companies to unlock design innovation and deliver better products faster. With more than 30 years' experience and thousands of customers in high tech, medical, machine design, energy and other industries, GoEngineer provides best-in-class design solutions from SOLIDWORKS CAD, Stratasys and Desktop Metal 3D printing, Creaform 3D scanning, CAMWorks, PLM and more.
Exhibitors
ShenZhen BigTree Tech CO.,LTD.is a Professional manufacturer of 3D Printer,3D Printer DIY kits,3D Scanner,3D Printer Filaments and 3D Printer parts( Ramps 1.4,A4988,Drv8825,TMC2100 stepper motor drivers,Hotend,nozzles,endstop,BIGTREETECH Base,Gen,Rumba,Sbase motherboard)with Professional test facilities and extraordinary R&D staff.We aim to provide the best and innovative 3D printer with superb quality and best service to meet our customers needs.We focus on being a highly effective,fast moving and continuous innovative company.We are expecting to cooperate with you and win win situation in the nearly future
ChemCubed (Chem3) develops custom chemistries for piezo-head additive manufacturing. ChemCubed's technology is centered around nano-composite materials for jetting by means of common, commercial, piezo-effect inkjet "additive process" 3D printing equipment. These jettable nano-composite materials are application specific, embodying customer-specified physical, electrical, thermal or mechanical properties. Chemcubed has materials for inkjet head and SLA printers.

ChemCubed has also developed materials such as highly conductive ink for low sintering temperatures and a corresponding method of printing electrical conduits, while printing a 3D structure. ChemCubed is introducing the next generation in UV LED flatbed inkjet printers. Electro-UV3D printers allow users to effortlessly print conductive liquids, support and insulating materials The printer can cure resins with different material properties building objects both flexible and stiff, as well as conductive conduits simultaneously. It is also possible to print directly onto substrates such as FR4 boards, making circuit boards, or on Kapton® tapes for flexible electronics.
Hawk Ridge Systems is Your Source for Engineering Design Solutions. From engineering design to manufacturing production, Hawk Ridge Systems has the team and the expertise to deliver the solutions you need. We Provide SOLIDWORKS® 3D software, CAMWorks® CAM software, and 3D printers from 3D Systems-please change this out to HP and Markforged® to over 25,000 customers in North America, as well as the largest, most dedicated technical support team, with a 2:1 ratio of engineers to sales. We have over 20 years of experience with engineering design and manufacturing software systems.
Incept 3D offers in-house 3D printing and additive solutions, materials, and services. Its primary offerings consist of industrial grade FDM, PolyJet, and SLA services. The company uses in-house filament for its Stratasys FDM machines, which allows for incredibly competitive pricing, and it sells the filament to Stratasys users as well.

KEENE VILLAGE PLASTICS is a manufacturer of Thermoplastic Welding Rod and 3D Printing Filament dedicated to meeting all of your plastic fabricating and 3D printing needs. Our quality, selection and customer satisfaction are unmatched in the industry. We manufacture our filament with laser-controlled precision to give you the best quality filament you can find anywhere for making your 3D prints.
REYNOLDS ADVANCED MATERIALS, subsidiary of Smooth-On Inc., specializes in converting ideas into physical reality by presenting our Smooth-On Mold Making and Casting materials.

Our numerous Silicones, Resins and Adhesive formulas and easy to use chemistry provide solutions to help take concepts to prototypes to finished products. With 11 branch locations in US, our expertise can guide you, online and in person. Check out our educational YouTube videos.
What causes annoying snags, bubbles and voids in layer when printing?
➢ Dust and other foreign airborne particles contaminate filament when produced
➢ Humidity (moisture) in factory air soaked up by filament when produced
➢ Filament not perfectly round and haphazardly wound on spool tangles up stopping filament feed or clogging nozzle
➢ Filament produced with up to 30% recycled PLA reducing consistency and strength
How do you fix it?
➢ Produce filaments in a Clean Room
➢ Control Humidity in Clean Room so filament is produced with less than 1000 parts per million
➢ Make filament perfectly round with +/- .02 mm diameter so filament can be machine wound layer by layer which guarantees no tangles in filament
➢ Filament made with only virgin USDA approved color powder and PLA
➢ Sign up for free spool at Booth 111
ONLY SCHOON CORPORATION (39 years supplying plastics and ink to OEM's)
2559 Nicholson St
San Leandro, CA
website: www.schoon.com
Phone: 510-895-1381
email: bob@schoon.com

In business since 1989, Source Graphics is a leading Service and Solutions company, specializing in the 3D, CAD, and GIS Wide-Format Imaging markets. We represent many industry leading 3D Solutions companies such as Artec 3D, ANSYS SpaceClaim, Autodesk Netfabb, Formlabs, HP 3D, MakerBot, Ultimaker, and more. Our friendly and experienced team is dedicated to serving you. Whether your needs call for hardware, supplies, service, application software, or prototyping services, we are the best source for you!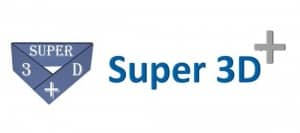 SUPER 3D PLUS INC
Super 3D Plus Inc., based in Calgary, Alberta, Canada is the sole US and Canada distributor of Microjet's ComeTrue T10, a revolutionary desktop full 3D color powder printer which is easy to use, easy to maintain, inexpensive to operate. The T10 retails for a price of $30,000 and is significantly less expensive than other full color 3D printers.
The ComeTrue T10 uses composite powder and a CMYK continuous ink supply system. With 2400 nozzles in each print head it has a resolution is as high as 1200 x 556 dpi. Thanks to the patented CBJ technology (ComeTrue® Binder Jetting 3D Printing), the cost of printing is reduced to US$0.1/gram.
In addition to composite powder, the T10 can also be used for ceramic powder-based 3D printing. This versatility makes the ComeTrue T10 an ideal choice for ceramic crafts, entertainment, lithophane, art, architectural printing, and education. Additionally, with our 3Doll app, the T10 is perfect for easily printing mini-figurines.
We are a passionate team of engineers, designers, and enterpreneurs. Started in San Diego CA in 2014, UniZ is committed to create enabling additive manufacturing technology for every creative individual around the world. Realizing and distributing your ideas are no longer expensive and cumbersome, let's create together!
Verbatim is proud to offer top grade 3D printing filaments manufactured in Japan to our exacting standards, and made from the highest quality materials to ensure consistent feeding and stable prints. Our product offering includes 1.75mm and 3mm ABS and PLA filaments, in a range of colors, and proprietary 1.75mm PRIMALLOY™ Flexible filament that allows users to create flexible, yet extremely durable prints. We recently launched 1.75mm and 3mm PP filament, offering high levels of heat and chemical resistance, and 1.75mm PET filament, offering high levels of transparency and strength. Our newest material is our 1.75mm BVOH filament, a water-soluble support material for complex 3D printed objects. All Verbatim 3D filaments are wound on a custom-designed spool, developed for both strength and to ensure even feeding of filament, resulting in high-quality, consistent printing.
Media Partners
Blog Partner
Women in 3D Printing was founded in 2014 to feature women leaders in the Additive Manufacturing industry through interviews and portraits. We also initiated #3DTalk, a series of events in the Bay Area and in major industry events.